Fascial Stretch Therapy FST™ ~ feel the difference™
What is Stretch to Win® Fascial Stretch Therapy™?
An innovative 'assisted stretching' method which focuses on your body's fascial nets. You'll experience gentle movements in your limbs, spine, muscles and joints. Effective and pleasant, FST is pain free and can produce immediate results.
A healthy fascial system means your muscles can perform to their fullest potential. It's like clearing the cobwebs between your fascia and muscles. You'll move & feel better in daily and recreational activities.
FST helps decrease pain caused by fascial restriction. And relieves stress and tension in your body.
You lay fully clothed on a treatment table.
What is fascia?
Fascia is a 3D connective tissue network within our body. Several 'nets' weave and interconnect muscles, organs and bones. It is a fundamental component of our bodies. And an important factor in maintaining health, well-being and optimal physical function.
What is the function of fascia?
It's responsible for your human shape.
Generates mobility, stability and resiliency with your entire body.
Assists with body proprioception.
Acts as a hydraulic system which contributes to every move you make.
How do I locate fascia on my body?
Pick up your skin and you will feel the first superficial layer of fascia.
The deeper layers which cover your muscles organs nerves and cells are difficult to palpate. And you may notice these layers in a more subtle way. Tightness in areas of your body would be mainly due to tight fascia. And injuries (although not so subtle) with ligaments, tendons and strains would involve the fascia.
How else?
Wear a shirt that you can tie a knot on the lower left bottom portion. Hold it down.
Now move your right arm to the sky and keep the lower left portion of your shirt held down.
Notice any restrictions to your mobility as you raise your right arm.
This is an example of how a restricted fascial system impedes movement and can cause imbalances in movement and muscular function.
Benefits of FST
Immediate results for greater mobility, stability and flexibility.
Tension release for fascia, muscles, and joints.
Effective.
Long lasting.
Pain relieving.
Pleasant & gentle therapy.
Restore function of body mechanics and posture.
Move & feel freedom in life, physical activities and sports.
How is FST™ performed?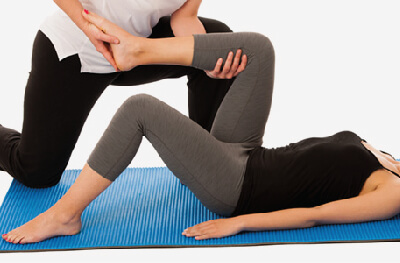 You'll be 'assisted' in a stretch method that takes your body through multi-directional angles and planes of movement.
You are fully clothed on your back or side lying on a treatment table. Sometimes on the field or floor.
You lay down, breathe, relax and let your FST therapist do the work.
You'll experience a reflex relaxation technique to achieve optimal results. Which contribute to fascial stretch, increase of range of motion and body strength.
What is the focus with FST™ technique?
Your breath. Crucial component. Calms your nervous system & allows relaxation to occur.
Traction for your joints and fascial system. Creates maximal length in your range of motion.
Gain without pain. FST works with your natural movement. Stretching is pain-free. No over-stretching.
Multiple planes of movement. We 'dance' with all angle of your muscles, joints and fascia.
Decrease tension in your fascia and muscle. A complete stretch therapy. Most stretch programs only focus on stretching the muscle. You'll experience a complete body stretch.
Less is more! Sometimes the movement is minimal. With effective results which will increase your range of motion and release tight fascial nets.
Athletes and organizations that use FST
Google
Microsoft
Patrick Chan Canadian Figure Skater for Canada
Valtteri Filppula – Center for Tampa Bay Lightning NHL Hockey Team (2016)
Patrycja Maliszewska – Olympic Short Track Speed Skater Poland
Melissa Reynolds – Marathoner and triathlete
Jillian Gallays, 53 kg, Olympic Team Member and 2016 PanAm Champion
Source: FST website
Feel immediate results in body & mind.
Book today for a special introductory offer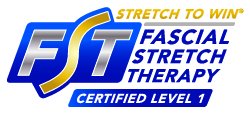 Barb Earle is a Level one Fascial Stretch Therapist. Her continuing studies in this effective stretch method includes Level Two in 2018 which will bring a deeper level in your FST.
Ann and Chris Frederick are the creators of FST™. Ann with her extensive experience working with pro athletes and Chris with many years as a physiotherapist created this innovative system to help patients and clients attain better health performance in all areas of life. Both are KMI Certified in Structural Integration through Thomas W Myers (Anatomy Trains). Thomas based this certification on his development of Ida Rolf's pioneering work.