What is Stretch to Win® Fascial Stretch Therapy™?
An innovative 'assisted stretching' method which focuses on your body's fascial nets. You'll experience gentle movements in your limbs, spine, muscles and joints. Effective and pleasant, it's pain-free and can produce immediate results. FST™ helps decrease pain caused by fascial restriction. And relieves stress and tension in your body. You are fully clothed laying on your back or side on a comfortable, treatment table.
A healthy fascial system means your muscles can perform to their fullest potential. You have a healthy range of motion in your body. An unhealthy one means you experience restrictions in movement and sometimes pain. FST™ is like clearing the cobwebs within your fascial layers and muscles. You'll move & feel better in daily and recreational activities.
Barb Earle is a Level 1 Fascial Stretch Therapy Practitioner.
Testimonials
If anyone asked me to describe Barb and her Myo-fascial stretch treatments, it would be an easy answer … awesome! I knew a little about fascia, but I did not realize healthy fascia is as important to our well being as healthy muscles. Barb is personable, knowledgeable and very skilled. She always takes the time to explain her procedure and answers any and all questions. I would definitely recommend a fascial stretch from Barb!

Bev, Pilates Practioner. Calgary, AB.
The Fascial stretch therapy session received from you was an invitation for me to let go of not only the tightness my body was holding but also the tightness my mind was holding around this space.Sometimes we just need to be guided through the mansion of the body in order to open the doors that are sticky or shut. I felt safe and relaxed in your hands and would recommend you to anyone that was looking to release stubborn areas that could use a helping hand. Thank you!

Holly, Yoga Teacher. Cochrane, AB.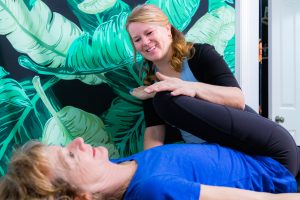 BOOK TODAY FOR A SPECIAL INTRODUCTORY OFFER!